Argan Oil is made from the edible part of the nuts inside the shell of Argan fruit. Argan tree found mostly in Southwestern Morocco is millions of years old tree. It has gained importance in recent decades throughout the world because of the medical benefits of its extracted oil. Argan Oil is increasingly coming under notice of outside world due to its manifold usage both for dietary and cosmetic purposes. However, its cosmetic use has gained solid grounds very quickly. It is because of its potential uses that a great interest is taken recently for the preservation of fast vanishing Argan trees.
Argan tree or scientific name Argania Spinosa used to cover North Africa and now endangered and under protection of United Nations Educational, Scientific and Cultural Organization (UNESCO). Argan tree grow wild at dessert with deep root system that help protect soil erosion at North Sahara. This unique plant life in an area covering a wide range of terrain Intramontane, more than 2,560,000 hectares, bordering the High Atlas and Little Atlas Mountains and is open to the Atlantic in the west. Argan oil remains one of the rarest oils in the world because of the small growing areas and very specific.
| | | | | | |
| --- | --- | --- | --- | --- | --- |
| | | | | | |
| | Argan Tree | Argan Seed | Argan Oil | Argan Goat | |
Interesting Facts About Argan Oil
Fact 1
"In year 1867, Morocco first delegacy participate in an international conference in Paris. They bring along the best products and most importantly the Argan nuts that brings a sensation at the conference".
Fact 2
Argan Tree (Argania Spinosa) is one of the few surviving tree species from the era of Pre-History (almost 65 million years ago) and is found only in Southern Morocco. This wild tree grows from 7 to 10 meter high and is considerate a miracle of Morocco for its unusual features. Its able to withstand drought and high temperatures up to 50oC. The Argan tree can live from

150 to 200 years and if it dies, it can remain active and then can live again in 7 years. Because of a strong root system, Argan tree is effective in preventing erosion, while maintaining soil fertility and limit the movement of sand in the dessert region.
Fact 3
Argan Oil, extracted from the Argan nut by Cold Press process and is considered as "liquid gold" which has a thousand nutritional health benefits. From the history, Phoenicia has been involve in trade Moroccan Argan Oil. Argan Tree, firstly mentioned in letters and documents of international trade that was written by a famous doctor of Egypt, Ali Ibn Radouane in the 11 th century. This was a time when the trade of medical products has spread across the world. Doctor Ali Ibn Radouane mentioned the treatment of ear and stomach with Argan Oil, which has been brought to Egypt from Morocco, North African countries. Morocco is situated between the Atlas Mountains and Mediterranean Sea.
Fact 4
In the 18th century, during the reign of Sultan Sidi Mohamed Ben Abdellah, a French Diplomat, De Chenier dedicated to attracting the attention of the Argan tree in its report. Thomas Barkely, a America Diplomat, assigned by the President of the United States, George Washington to end the mission of a peace treaty between the two countries, said he was interested in Argan trees in 1786. Later, in year 1867, Morocco first delegacy participate in an international conference in Paris. They bring along the best products and most importantly the Argan nuts that brings a sensation at the conference.
Fact 5
In year 1998, UNESCO put the Argan tree at the World Heritage list in 2001, Institutes within and outside the country (most of them are NGO) held a festival dedicated to the Argan tree. Many important decisions have been reached during the festival, such as long-term development of backward areas in the Berber, environmental protection and preservation of Argan trees.
Traditional Extraction of Argan Oil
Argan Oil has traditionally been extracted by Berbers from the residue indigestible seeds found in the dung using indigenous tools. Goats eat the Argan fruit and excrete indigestible seeds. These seeds are ground and pressed by women to extract oil with smell and taste of nuts. Different shaped rocks and quern stones are used for pressing and cracking the oil containing seeds. It is a very lengthy process and can take several days to complete.
But it has two major advantages over all other methods. One, because the whole process of production from harvest to oil extraction is done by the same people, use of best seeds for oil production can be assured. Second advantage is that the problem of oxidization of exposed seeds becomes irrelevant because of the immediate processing of obtained seeds. On the other hand, in industrial methods seeds are separately acquired from the market. Those seeds are more prone to oxidization due to longer exposure to environment.
Mechanical Extraction of Argan Oil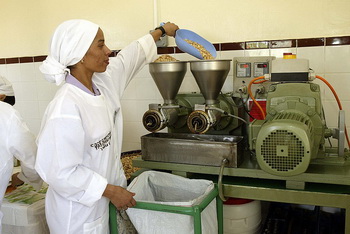 Now more sophisticated and advanced mechanical method is used for Argan Oil extraction. When commercial interest of private local and multinational entrepreneurs increased in the Argan Oil production in early 1990's, there was felt a need for a more efficient and time conserving method for the extraction of Argan Oil on commercial level. Argan Oil extracted using this method can be preserved for 12 to 18 months. In this method powdered kernels by tampering it with water to make a pasty substance. It takes only a couple of hours to extract one liter of oil using this method.
Chemicals Extraction of Argan Oil
This method is used when oil is required for industrial or laboratory purposes. In this method oil is directly absorbed in chemical solvents from ground kernels. Oil extracted using this method is not that fit for cosmetic uses compared to other two methods, but it is the highest yielding method of all the three.
Argan Forest Map