Online Users 13651
---
How To Buy From Bio-Asli Shop?
Its easy to buy Bio-Asli product. We provide a guide to help you make order for our products.

* Make sure your follow step shown :-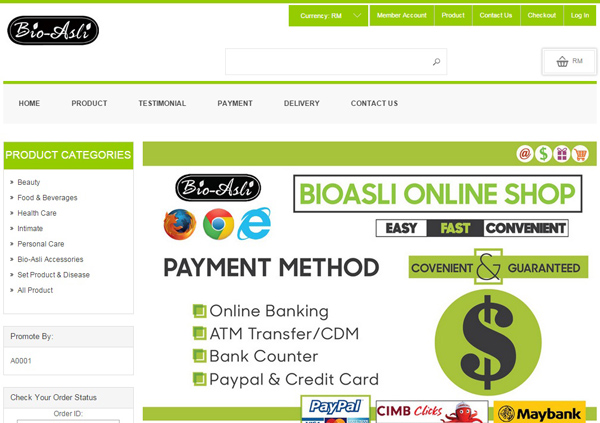 Visit www.bio-asli.com/shop/default.asp to the page for online purchase in Bio-Asli. Please go to "Product Categories" to view the products been offered.
Select the product that you want to purchase. Click at box "Product Info" for more information on these products.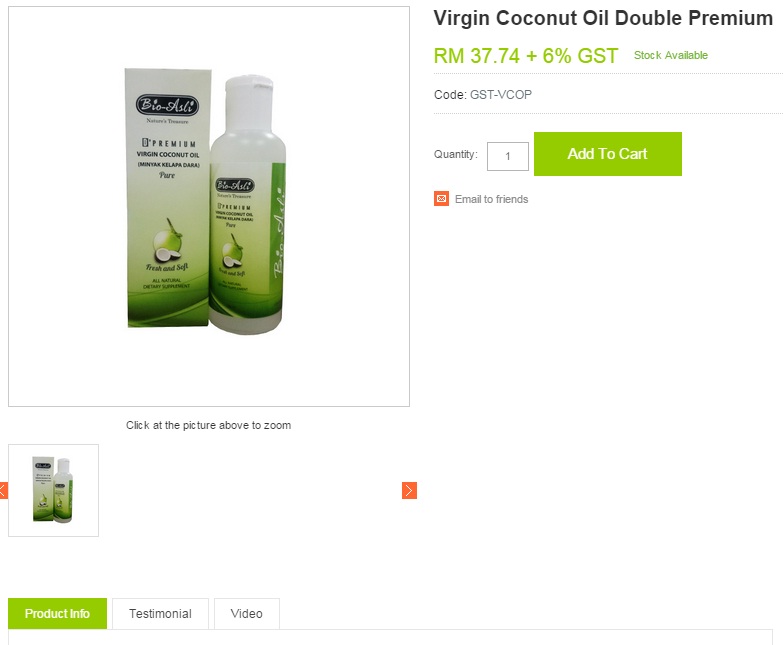 Enter the quantity you want to purchase at box "Quantity". After that, please click "Add To Cart" to enter the purchase into "Shopping Cart".
Check your purchase, make sure the order is right. If you want to resume shopping, please click at box "Continue Shopping".After reviewing your product purchase, please select "Delivery Cost" your country (If you live in Malaysia, the postage is FREE). After that, click the button "Check Out".
Please fill in shipping information such as "Name, Telephone No. and accurate Delivery Address" . For menu box "Payment Method", we provide 2 methods for you to make payment to us using "Company Bank Account" or "Paypal (Credit / Debit Card).
Please check the amount that you need to paid in the "Grand Total". After that, please click at box "Buy Now".
Your order have been successfully made. Please keep the "Order ID" that been display to be refer again if any problems occur or to track your delivery item. Please make payment by the amount shown.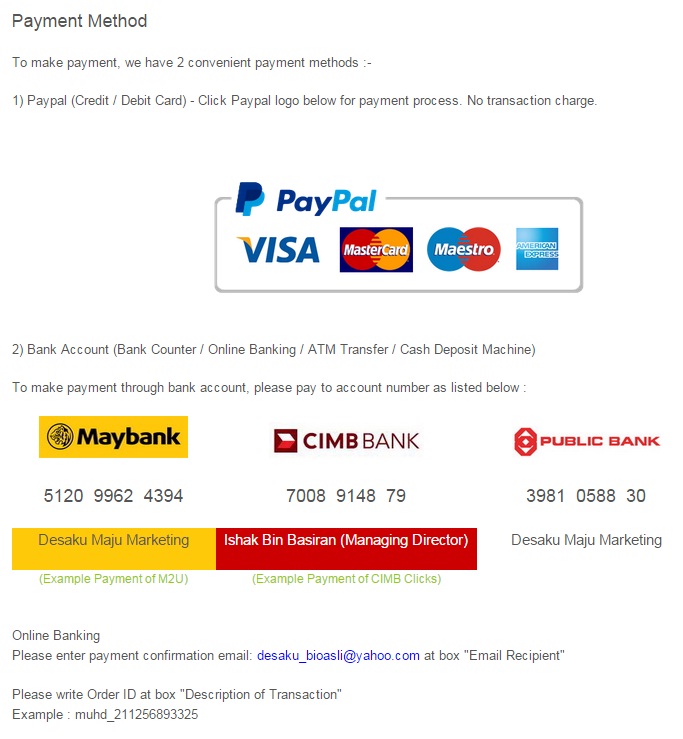 We provide 2 payment methods by "Paypal (Credit / Debit Card) & "Company Bank Account". If you have Paypal account @ Credit Card @ Debit Card, you only have to click at the logo Paypal to make payments. Below is the example of payment made by paypal :-
If you pay by company bank account, please enter your payment information at the "Payment Conformation Form". Please click the button "Validate Your Payment" after filling all the necessary information.

After we received your details and verify the payment, we will ship your products within 24-48 hours via Pos Malaysia @ Poslaju @ Gdex Express.
For Peninsular Malaysia, Sabah and Sarawak!
SUBSCRIBE OUR NEWSLETTER